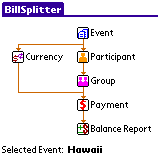 BillSplitter
A bills splitting or expenses sharing application especially designed for reconciling shared expenses. BillSplitter calculates and keeps track of all bills or expenses spent for games, gambling, parties, traveling or trips, vacations, and household expenses with housemates/roommates.
The main goals of BillSplitter are to avoid confliction on reconciliation of shared expenses, and enable the shared expenses to be divided to each appropriate participant fairly, accurately, and easily.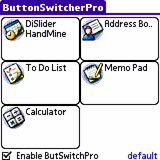 ButtonSwitcherPro
An utility to let you launch 24 favorite applications quickly and easily by hardware buttons and calculator silk button. You may assigned maximum 4 different applications to a single button for short tapping, and these 4 applications will be cycled each time you tap the button, or there 4 applications can be shown up for selection. And one application can be assigned to each single button for long pressing (>= 1 second pressing time).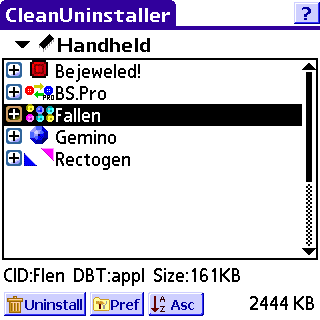 CleanUninstaller
An utility that allow you to remove applications completely from your Palm memory and expansion card. CleanUninstaller monitors creation of all files, saved preferences, or unsaved preferences by application (with application's unique Creator ID or DIFFERENT Creator ID), and will remove all of them including hidden items when uninstalling by using CleanUninstaller.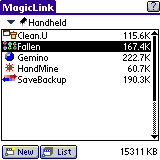 MagicLink
Shortcut creator that allows you to assign it under any category especially for the applications on card that cannot be placed under category in launcher area. MagicLink frees up your internal memory by moving applications with its associated databases to card.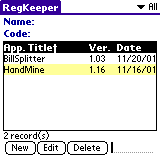 RegKeeper
Database application designed to keep track & organize software registration information. You can store application version, user name, registration code/registration number/serial number/password, date of purchase, developer contact information, software platform, etc.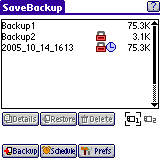 SaveBackup
A safety and powerful backup solution that backup your data from internal handheld memory to external expansion card. SaveBackup helps you to save latest copy of your data onto SecureDigital Card, MultiMedia Card, or Memory Stick that support Virtual File System (VFS), in the event of accidental data loss, hard-reset, system crash, battery failure, etc. With SaveBackup, you may backup and restore your data anytime anywhere without waiting for the HotSync or modem access.